Purpose & Philosophy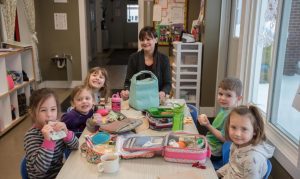 The purpose of Immaculate Heart of Mary Catholic School's Child Care Program is to provide safe and secure care for the enrolled children of IHM School before and after school and for preschoolers and young five students when they do not have school.
Attendance schedules vary according to the needs of each child and his/her family. There is a basic daily routine that gives the children a sense of security. At the same time, there is flexibility in order to meet the specific needs of the children on any particular day.
We believe that each child is a gift from God and should be treated as such. We believe children learn best through a combination of planned and spontaneous experiences with a balance between teacher-led and child-led activities in order to encourage overall development physically, mentally, emotionally, spiritually, and socially. Activities include but are not limited to stories, large and fine motor activities, language and math games, dramatic play, creative art, crafts, music and movement, sensory exploration, experiments, manipulatives, puzzles, board games, homework assistance as needed, computer (for homework purposes). We believe the outdoors is essential for overall health and development and go out with the children every day (weather permitting).
Days & Hours
Child Care is open from 7 a.m. to 6 p.m. every day that school is in session. When the elementary school is closed, Child Care is closed. If school is delayed due to inclement weather, Child Care may be delayed an equal amount of time.
Fees
Annual Registration Fee: $10
Hourly Fee: $5/hour
Late Fee: $10 after 6 p.m. for every 15 min. or portion thereof
Eligibility
IHM students currently registered for both school and Child Care
$10 annual Child Care registration fee and payments up-to-date
Students' schedules pre-arranged with the director.
All state- and school-required child care forms completed and on file with the director prior to attendance.
Forms
Optional Forms
Billing Options
Credit Card payments are encouraged. Please call Barb Heinbeck in the Parish Office: 616-241-4477.
Payments can be made online via PayPal.  You can create or pay with an existing PayPal account.

Visit paypal.me/ihmchildcare
Type in the amount of your payment, and in the "Add a Note Section", state your child's name.  Please bear with us, but for right now you will have to pay separately for each child.  We are working to resolve this problem.

Payments may be given to a Child Care Staff Member during drop off and pick up.
Payments may be put into a locked box labeled Child Care located inside the main entrance of the school, Door A.
Payments may be mailed to the School Office at 1951 Plymouth Avenue SE, Grand Rapids, MI 49506.
Payments are no longer accepted via Kidmail.