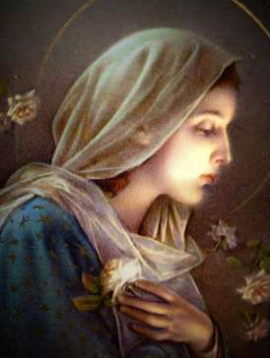 Remember, O most gracious Virgin Mary, that never was it known that anyone who fled to thy protection, implored thy help, or sought thine intercession was left unaided.
Inspired by this confidence, I fly unto thee, O Virgin of virgins, my mother; to thee do I come, before thee I stand, sinful and sorrowful. O Mother of the Word Incarnate, despise not my petitions, but in thy mercy hear and answer me.
Amen.
Mary Mother of Fatima, we humbly offer our rosary today for your intercession in bringing about a conversion of hearts and minds of those who support and promote the taking of innocent life; for our nation; for our country to cherish and welcome the gift of children and provide ways to support parents, especially in unplanned pregnancies; for the reversal of Roe v. Wade and other legislation which promotes the culture of death; for your guidance in the Church's efforts to promote alternatives to abortion and create a culture of LIFE!
---
Mary, Mother of the Sorrowful, pour your grace over the family of IHM substitute teacher Mrs. Cheryl Heintz as they grieve the passing of her brother-in-law, Bob Heintz; the 101-year-old great-grandmother of the Rizik boys, Mrs. Matilda Rizik, who finished her years of work on earth, only to pick up and begin her work in heaven; Sister Karen Werra, aunt of Mrs. Karen DeChant, who passed away peacefully earlier this month. Bless all their families with the assurance of their salvation and console their hearts. May perpetual light shine upon them all.
---
Mary Mother of Sorrows, comfort and console with those of our Immaculate Heart of Mary family who are mourning the passing of loved ones: IHM maintenance man Doug Nowak's father-in-law, James Karwowski; grandpa of Roman and father of Neal Riley, Mr. Robert Riley; for those who will die this day, especially those who will die alone. Let the thought of your Son's gaze upon our soul make us crave eternity in complete bliss with you and with Him.
---
Mary Mother of the Cross, lend your maternal care for those carrying the cross of illness – spiritual, mental, emotional or physical – and by your example, may we be prompted to assist them with our prayers and acts of service: Mrs. Suanne Stay, mother of Collin, navigating the road of chemotherapy treatments in preparation for breast cancer surgery; Mrs. Bridget Graham, mom of Finn, Frannie and Charlie, on the road to recovery from breast cancer; sister of Mrs. Colleen Lowe, Kit Holmes, beginning her treatment of breast cancer; little granddaughter of substitute teacher Mrs. Shirley Price, Amelia, still witnessing the Love of Christ through a debilitating disease; little Isabella K., IHM second grader who, with the constant prayers and support from her teacher and classmates, is successfully recovering from leukemia.
---
Mary Mother of Joy, thank you for the safe and healthy delivery of baby Gwendolyn, born of Melanie and Steffen Nizinski, and baby Joseph, born of Naw and Saw Say.
---
Mary Mother of Hope, protect the pregnancies and make for healthy deliveries of: 2nd grade teacher Mrs. Rachel O'Hearn, pregnant with her first child; IHM mom Amanda Solt due with their third child in September; IHM mom Amanda Mancewicz due with their fourth child in June; IHM mom Hannah Naltner, expecting their fifth child; IHM mom Mrs. Brandy Iacopelli, expecting their third; IHM mom Mrs. Danielle Walsh, expecting Walsh number five; IHM alum and daughter of preschool aide Mrs. Maria Weber, Amanda Williams, due with their first child; daughter-in-law of Mrs. Colleen Lowe, Molly Lowe, expecting their first child; IHM Youth Ministry team member, Ashley David Beers, expecting their first child; and a few other mothers still too early to announce!
---
Mary Mother of Cana, thank you for your intercession in bringing about the marriage of IHM Alum and substitute teacher Mr. Michael Jacobs and his fiancé Marianne Brown last weekend, under difficult circumstances. Bless their love and their marriage!
---
Mary, Mother Joy, pray for and protect the vocations-in-formation of our seminarians and for our women Mary Mother Joy, pray for and protect the vocations-in-formation of our seminarians and for our women religious: Deacon David Jameson, preparing for his priestly ordination this June; Stephen Jakubowski, Temporarily Professed Seminarian Congregation of Holy Cross, Notre Dame, moving ever closer to his ordination; Peter Wasinski, 4th year at St. Thomas Seminary, Minnesota; Greg Wasinski, 1st year at St. Thomas Seminary, Minnesota; Sr. Mary Rose Thomas, Sisters of St. Francis of the Martyr St. George. With a mother's care, lead more young men and women from our parish to hear the call and be certain of their vocation, whether to the single life, married, priestly vocations or women religious life. 
---
St John Mary Vianney, patron saint of priests, bless and protect our own Fr. Troy Nevins with good health in mind, body, and soul. Grant him a sustained spirit of gratitude and the fortitude needed to serve his ever growing parish family.
---
Mary Mother of us all, take merits our joys, works, prayers, and sufferings of this day and apply them to the soul or souls in most need. We know your generosity cannot be outdone! Show us how we are to be Christ's hands, and his feet this day to those who are hungry, hurting or in despair. Attend quickly to those who will die this day, especially those who will die alone.
---
We love you and entrust our lives and the lives of our family to your perfect care.
Amen.